By Jerry Jordan, Editor
Screenshots of a document leaked to an online chat forum and obtained by Kickin' the Tires, purportedly shows NASCAR's intention to debut a prototype electric vehicle ahead of the 2023 Busch Clash at The Coliseum and then morph that prototype into a racing series at six racing venues "likely aligned with Cup Series events."
NASCAR did not address the document specifically, which was provided to them, nor confirm if it was theirs, however, the following statement was provided to Kickin' the Tires, "As we have mentioned in the past, we are exploring the potential for an EV demonstration series. We are currently working with our OEM partners and race teams as the program progresses."
Lending some credence to the authenticity of the document, portions of the screenshot show the blue and red features NASCAR uses in producing items like this one. Additionally, several sources have previously confirmed that NASCAR was in the planning and development stages of EV implementation.
The topic of electric vehicles in NASCAR is not new and with current federal laws regarding fuel mileage, as well as, automobile manufacturers turning more to an electrified future, it should be expected eventually, most say. Dale Earnhardt Jr. even addressed the matter for about three minutes during a recent "Ask Junior" segment of the Dale Jr. Download.
[cpm-player skin="classic-skin" width="100%" playlist="true" type="audio"] [cpm-item file="https://kickinthetires.net/wp-content/uploads/2022/07/Dale-Earnhardt-Jr-EV-Cars.mp3″]Dale Earnhardt Jr-EV Cars[/cpm-item] [/cpm-player]
According to the information, which is yet to be confirmed by NASCAR, the target launch for the racing series would be in the third quarter of 2023 and features, two races consisting of 30-minutes apiece – one on Saturday and another on Sunday.
12 vehicles total (3/4 per OEM)
Lap time targets equivalent to NG ICE (Internal Combustion Engine) platform
No battery swaps/charging (evaluate implementation in Phase 2)
Non-competitive pit stops for tires or to fix mechanical/crash damage
Earlier this year during a press conference in March, Steve O'Donnell, NASCAR Chief Operating Officer, confirmed that NASCAR was looking into an "exhibition series" utilizing electric vehicles. He didn't say how far along those plans were but he stressed that whatever that series looked like, the most important aspect would be to ensure that it was entertaining to the NASCAR fanbase.
"We are exploring some opportunities around an exhibition series in that space, and as everyone knows, there is a huge push across all of our OEM partners and potentially new OEM partners, so it is important for us to explore that space," O'Donnell told members of the media at the time. "I think there is a lot of interest from our current partners to be part of that but we look at NASCAR as a place where in an ideal world we'd be all things to all things to all people. So, if you went to a NASCAR event weekend, you could see whatever type of technologies you wanted throughout a race weekend, so we will take a look at an electric series.
[cpm-player skin="classic-skin" width="100%" playlist="true" type="audio"] [cpm-item file="https://kickinthetires.net/wp-content/uploads/2022/07/Steve-ODonnell-Electrified-Series.mp3″]Steve ODonnell-Electrified Series[/cpm-item] [/cpm-player]
"If we are going to get into an electric space, I promise you it will be entertaining and it will be something that fits into our portfolio and something our fans will be proud of."
The document also lays out a set of goals that NASCAR would like to achieve, including the introduction of "full electric performance vehicles to evaluate entertainment/engagement/acceptance interest."
Other goals included:
Demonstrate and focus on the high-performance capability of electric vehicles
Implement BEV racing in NASCAR that is fiscally responsible to the participating teams and OEMs
Use learnings from the 2023/24 exhibition series to determine best path forward in National Series for 2025
Additionally, the images of the document show that NASCAR would produce an NG chassis with modified front and rear clips to handle the new powertrain and batteries. However, the new design would allow the vehicles to retain the suspension and brakes that are currently used on the Cup Series. While it appears the demonstration event would utilize an approved Cup Series body, the sanctioning body and OEMs would also investigate the use of SUV/CUV (Sport Utility Vehicle/Compact Utility Vehicle) bodies, leaving that decision up to the OEM.
Calls and messages sent to representatives of all OEM executives at Toyota Racing Development, Ford Performance and Team Chevrolet did not result in comments prior to publication.
Electric Vehicle Specifications
The document also indicates, common electric vehicle powertrains that would be used in Phase 1 would include:
All wheel drive
DC Voltage – 900V max
Motors – 3 Ultra high power (>1000 hp)
Regen (Power Regeneration Unit) – 200 kW (kilowatts)
Furthermore, NASCAR would take the best practices that it has learned from other EV racing series and incorporate those into the new program, based on information contained in the document in question. It is presumed that some of those practices could come from the FIA-approved Formula E and Electric Production Car racing series, which has seen growing success since being introduced. Because electric engines make little sound, NASCAR would also "evaluate options for sound" and look to OEMs for input. Finally, NASCAR would own or license all intellectual property involving the new EV racing series.
EDITOR'S NOTE: We will update this article as more information becomes available.
Image Showing Event Plans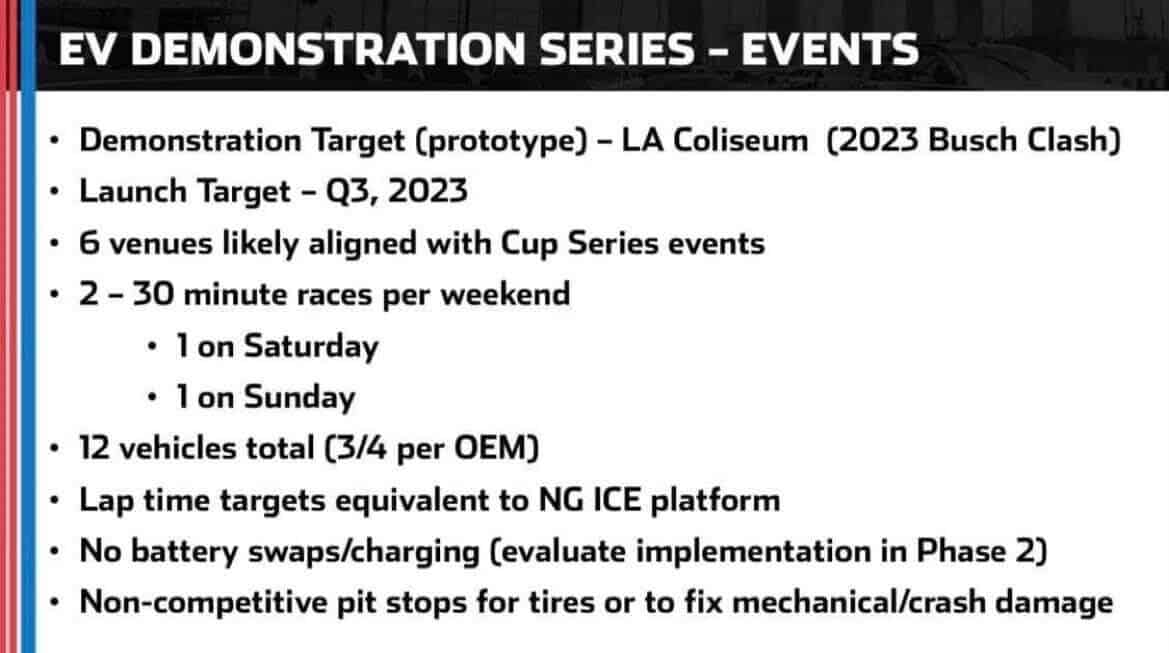 Image Showing EV Goals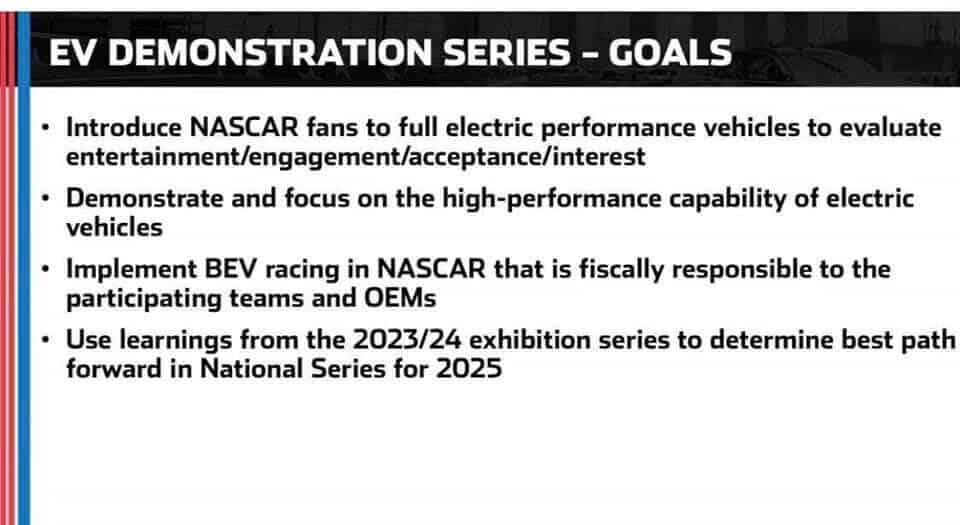 Image Showing Vehicle Info.